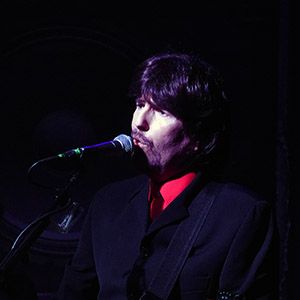 George! A timely celebration of Harrison at Hard Rock
By Tim Parsons - Tahoe Onstage
George Harrison's other "Old Brown Shoe" has been located on Abbey Road.
An alternate version of the "Quiet" Beatle's blues tune will be included on next month's reissue of the "Abbey Road" album.
It was 50 years ago – Aug. 8, 1969 – when the Fab Four caused a traffic jam as they walked through the zebra-painted crosswalk in a photo shoot for the album cover. Crowds gathered Thursday in the St. John's Wood neighborhood to celebrate the anniversary.
On Friday, Aug. 9, there was be a celebration at Lake Tahoe, too. "George!" — The Concert starring Nick Bold as George Harrison — was be presented at the Hard Rock Hotel & Casino Lake Tahoe's Vinyl Showroom. The quartet is led by Nick Bold.
"George complemented the other two – (John Lennon and Paul McCartney) — so well," Bold told Tahoe Onstage. "He kept his ego very much under control. He was the perfect guitarist for that groove. A very hard role to fill with two geniuses in the driver gear. He was just so tasteful in his playing. He was the perfect guy for that job."
Songs played in "George!" are loosely based on Harrison's 1991 tour in Japan. They include Harrison's Beatles songs, including two sung by Ringo Starr, his solo material and tunes with the supergroup The Travelin' Wilburys.
Bold uses pedals to recreate the Beatles' Leslie sound and Harrison's sitar. Highlights of a lively 90 minute performance at Hard Rock were "My Guitar Gently Weeps," "My Sweet Lord," "Here Comes The Sun" and "Taxman."
Bold's resemblance to Harrison led to an appearance about 12 years ago on a British television program, "Stars In Their Eyes." After his performance was discovered on YouTube, he was recruited to play in the Beatles tribute band The Reunion Beatles.
Bold also plays in a trio, Nick Bold & The Raging Sea. Each of those members play in "George!" plus a keyboardist.
Beatles notes: Bold said "Frank Sinatra famously said "Something" was his "favorite Lennon-McCartney song." It was, in fact, written by Harrison. … The resissue of "Abbey Road" is Sept. 26 and will include a new version of "I Want You (She's So Heavy)" with an extended jam by "Fifth Beatle" keyboardist Billy Preston. … Although "Let It Be" was the final album released by the Beatles, the band's final recording sessions were for "Abbey Road." … Harrison, Lennon and McCartney played in a band called the Quarrymen before they started the Beatles. … Harrison died in 2001 at the age of 58.
— Tim Parsons
For Nick Bold, portraying George Harrison is only natural
By Carolyn Lamberson - The Spokesman - Review
For Nick Bold, who plays George Harrison, in "George! The Concert," the decision to portray Harrison was an easy one to make.
"Luckily, it feels very natural, and I'm not just saying this," he said by phone last month from his home in England. "I've always felt an affinity with George. He was the first person I looked too when I took up the guitar. My older sister was a huge Beatles fan so we had all the albums, so I just learned all his parts early on. … He was my first guitar hero."
Bold would parlay that love of guitar into a career in music. He played lead guitar in a 1970s and '80s band called Virginia Woolf, which featured Jason Bonham on drums for a time and recorded with Roger Taylor of Queen and toured with Jimmy Page and The Firm. He now has a blues-rock band, Nick Bold and the Raging Sea, that tours England.
It helps, too, that he bears more than a passing resemblance to "the quiet Beatle."
"And people always said, 'Do you know who you look like? You look like George Harrison.' "
In interviews, Bold is fond of referring to Harrison as a "guardian angel."
"It sounds corny," Bold admitted. "He gets me lots of work, I know that much. And I love George, I love his music, I love the Beatles, and it really is a natural fit."
In an odd way, Bold is paying tribute to two guitar heroes on this current tour. One of his favorite moments of the night is performing Harrison's classic track, "While My Guitar Gently Weeps," from 1968's "The White Album." And while Harrison wrote the song, he's not the one who recorded the famous guitar solo.
"Eric Clapton actually played that fantastic guitar solo, so I try to reproduce it note for note the best I can, and that is big shoes to fill," Bold said. "It's an incredible guitar solo. Masterful."
Still stepping into Harrison's shoes might give some musicians pause. For Bold, the challenge is to live up to the Harrison name.
"I hope I do his music and his singing and his guitar playing justice," he said. "I do believe he is watching over me. He's been such a huge part of my life"